Hericium erinaceus
Tannenstachelbart, Barkoralle
aktualisiert: 21.10.2023 14:39:45
Autoren:
(Bull.) Pers.
Klassifikation:
Fungi, Dikarya, Basidiomycota, Agaricomycotina, Agaricomycetes, Russulales, Hericiaceae, Hericium
Aktueller Name gem. MycoDB
Hericium erinaceus (Bull.) Pers., Commentatio de Fungis Clavaeformibus: 27 (1797) [MB356812]
Basionym:
Hydnum erinaceus Bull., Herbier de la France 1: t. 34 (1781) [MB147083]
Obligate Synonyme:
Dryodon erinaceus (Bull.) P. Karst., Bidrag till Kännedom av Finlands Natur och Folk 37: 92 (1882) [MB469082] Hericium commune Roques, Histoire des champignons comestibles et vénéneux: 47 (1832) [MB469435] Clavaria erinaceus (Bull.) Paulet, Traité des champignons 2: index (1793) [MB468732] Steccherinum quercinum Gray, A natural arrangement of British plants 1: 651 (1821) [MB450944] Hericium erinaceum (Bull.) Pers. (1797) [MB587983]
Taxonomische Synonyme: Martella echinus Scop., Annus Historico-Naturalis 4: 151 (1770) [MB170767] Hericium echinus (Scop.) Pers., Commentatio de Fungis Clavaeformibus: 28 (1797) [MB202489] Hydnum echinus (Scop.) Fr., Systema Mycologicum 1: 410 (1821) [MB242279] Manina cordiformis Scop., Dissertationes ad scientiam naturalem pertinentes: 97, t. 10 (1772) [MB469810] Hericium cardium Pers., Mycologia Europaea 2: 153 (1825) [MB469434] Hydnum hystricinum Batsch, Elenchus fungorum: 113 (1783) [MB198142] Martella hystricinum (Batsch) Kuntze, Revisio generum plantarum 3 (3): 492 (1898) [MB469816] Clavaria caput-medusae Bull., Herbier de la France 9: t. 412 (1789) [MB468706] Hericium caput-medusae (Bull.) Pers., Commentatio de Fungis Clavaeformibus: 26 (1797) [MB469433] Hydnum caput-medusae (Bull.) Pers., Synopsis methodica fungorum: 564 (1801) [MB230446] Merisma caput-medusae (Bull.) Spreng., Caroli Linnaei systema vegetabilium 4 (1): 496 (1827) [MB469843] Dryodon caput-medusae (Bull.) Quél., Enchiridion Fungorum in Europa media et praesertim in Gallia Vigentium: 193 (1886) [MB469080] Medusina patula Chevall., Flore Générale des Environs de Paris 1: 279 (1826) [MB431828] Hericium erinaceus f. caput-medusae (Bull.) Nikol., Acta Inst. bot. Acad. Sci. URSS, II: 340 (1950) [MB346896] Clavaria conferta Paulet, Traité des champignons 2: 427, index (1793) [MB468712] Hericium hystrix Pers., Commentatio de Fungis Clavaeformibus: 27 (1797) [MB202536] Hydnum hystrix (Pers.) Fr., Systema Mycologicum 1: 410 (1821) [MB198257] Merisma hystrix (Pers.) Spreng., Caroli Linnaei systema vegetabilium 4 (1): 496 (1827) [MB469861] Martella hystrix (Pers.) Lloyd, Mycological Writings 3 (34): 457 (1910) [MB469817] Hericium strictum Pers., Traité sur les Champignons Comestibles: 252 (1818) [MB469444] Hericium grande Raf., Journal de Botanique (Desvaux) 3: 236 (1813) [MB469437] Hydnum grande (Raf.) Steud., Nomenclator Botanicus enumerans ordine alphabetico nomina atque synonyma tum generica tum specifica et a linnaeo et recentioribus de re Botanica Scriptoribus: Plantis cryptoga

Sporenmasse
Mikroskopische Eigenschaften
Odontoide, irpicoide und stachelige Arten (+/- gelb/weiss)::
Keine inkrustierten Lamprozystiden: Mycoacia (ausser fuscoatra), Hericium, Dentipellis, Phlebia, Mucronella
"
Mit inkrustierten Lamprozystiden: Amylosterum, Irpex, Phanerochaete, Phlebia, Peniophora, Phlebiopsis, Scopuloides, Steccherinum, Irpex
"
Mit inkrustierten Lagenozystiden: Grandinia, Hyphodontia
"
Mit Gloeozystiden: Dentipellis, Creolophus
"
Mit Sklerozysten: Sarcodontia
"
Sporenform
Sporenmembran, Oberfläche, Skulptur
Basidien
Schnallen
Melzers-Reagenz
Bemerkungen / Hinweise / Abstract
Mucronella bresadolae kann sehr ähnlich aussehen, hat aber glatte Sporen.
"
Bemerkungen / Hinweise / Abstract
Pulver von diesem Pilz wird in der traditionellen chinesischen Medizin als eine Art Heilpulver eingesetzt. Er ist ein ausgezeichneter Speisepilz mit medizinischen Qualitäten, was bedeutet dass er erforscht wird wie so viele andere Pilze. Er heisst auch Lion's mane Mushroom oder Hedgehog Mushroom. Er enthält einige physiologische interessante Komponenten, vor allem beta-glucan Polysacharide, welche für krebshemmende, immunmodulierende, antioxidative, antimikrobielle, blutdrucksenkende und neuroprotektive Eigenschaften.
"
"
Besonders interessant ist, dass zwei Klassen von Terpenoidverbindungen, Hericenone und Erinacine, aus Fruchtkörpern bzw. kultivierten Myzelien die Synthese des Nervenwachstumsfaktors (NGF) stimulieren. In dieser Übersichtsarbeit untersuchen wir die wissenschaftliche Literatur, um die wissenschaftlichen Fakten über die medizinischen Eigenschaften von H. erinaceus zu erforschen und hervorzuheben. Wir liefern aktuelle Informationen über diesen Pilz, einschließlich seiner Taxonomie und einer Zusammenfassung der bioaktiven Verbindungen, die mit dem therapeutischen Potenzial von H. erinaceus in Verbindung gebracht werden.
"
Bemerkungen / Hinweise / Abstract
Medicinal mushrooms have become a compelling topic because the bioactive compounds they contain promise a plethora of therapeutic properties. Hericium erinaceus commonly known as "Houtou" or "Shishigashira" in China and "Yamabushitake" in Japan, has commonly been prescribed in traditional Chinese medicine (TCM), because its consumption has been shown to be beneficial to human health. The species is found throughout the northern hemisphere in Europe, Asia, and North America. Hericium erinaceus has been firmly established as an important medicinal mushroom and its numerous bioactive compounds have been developed into food supplements and alternative medicines. However, the correspondence of the active components that cause the observed effects is often not clear. The mushroom as well as the fermented mycelia have been reported to produce several classes of bioactive molecules, including polysaccharides, proteins, lectins, phenols, and terpenoids. Most interestingly, two classes of terpenoid compounds, hericenones and erinacines, from fruiting bodies and cultured mycelia, respectively, have been found to stimulate nerve growth factor (NGF) synthesis. In this review we examine the scientific literature to explore and highlight the scientific facts concerning medicinal properties of H. erinaceus. We provide up-to-date information on this mushroom, including its taxonomy and a summary of bioactive compounds that appear related to the therapeutic potential of H. erinaceus.
"
Bemerkungen / Hinweise / Abstract
Los hongos medicinales se han convertido en un tema de interés porque los compuestos bioactivos que contienen prometen una plétora de propiedades terapéuticas. El Hericium erinaceus, conocido comúnmente como "Houtou" o "Shishigashira" en China y "Yamabushitake" en Japón, se prescribe habitualmente en la medicina tradicional china (MTC), ya que su consumo ha demostrado ser beneficioso para la salud humana. La especie se encuentra en todo el hemisferio norte en Europa, Asia y América del Norte. El Hericium erinaceus se ha establecido firmemente como un importante hongo medicinal y sus numerosos compuestos bioactivos se han convertido en complementos alimenticios y medicinas alternativas. Sin embargo, la correspondencia de los componentes activos que causan los efectos observados no suele estar clara. Se ha informado de que tanto el hongo como los micelios fermentados producen varias clases de moléculas bioactivas, entre ellas polisacáridos, proteínas, lectinas, fenoles y terpenoides. Lo más interesante es que se ha descubierto que dos clases de compuestos terpenoides, las hericenonas y las erinacinas, procedentes de cuerpos fructíferos y micelios cultivados, respectivamente, estimulan la síntesis del factor de crecimiento nervioso (NGF). En esta revisión examinamos la literatura científica para explorar y destacar los hechos científicos relativos a las propiedades medicinales de H. erinaceus. Proporcionamos información actualizada sobre este hongo, incluyendo su taxonomía y un resumen de los compuestos bioactivos que parecen estar relacionados con el potencial terapéutico de H. erinaceus.
"
Thongbai, B., Rapior, S., Hyde, K.D. et al. Hericium erinaceus, an amazing medicinal mushroom. Mycol Progress 14, 91 (2015). https://doi.org/10.1007/s11557-015-1105-4
"
Gattung/en:
Links
Literatur: BRBK Band: 2 Seite: - Bild: 286 - 286
Hericium erinaceus - Flammer, T© 10348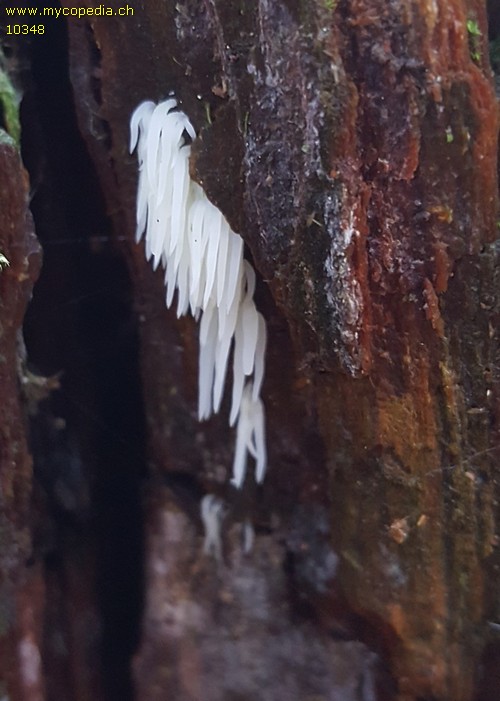 Hericium erinaceus - Flammer, T© 10347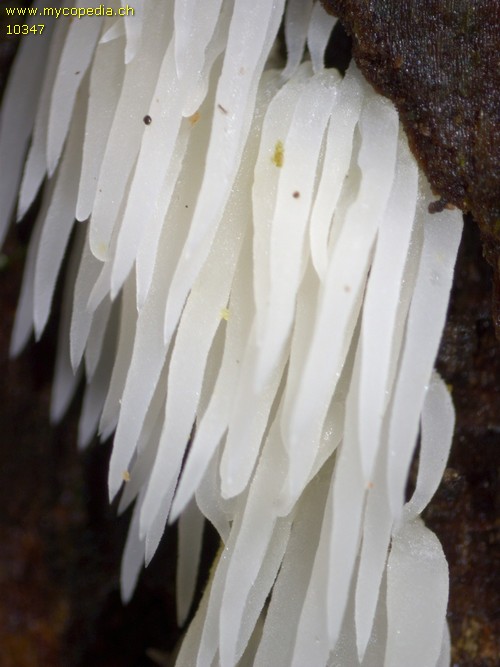 Hericium erinaceus - Flammer, T© 10351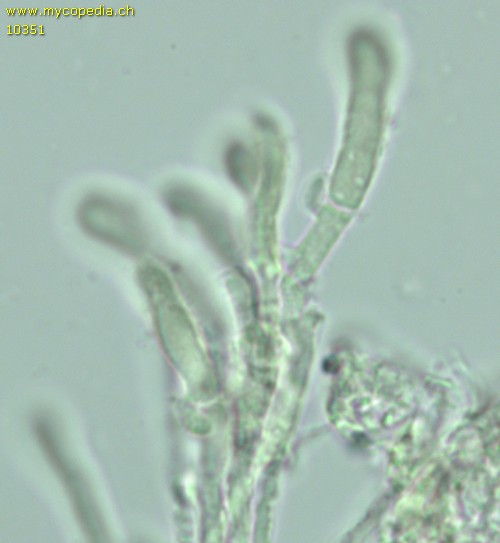 Hericium erinaceus - Flammer, T© 10350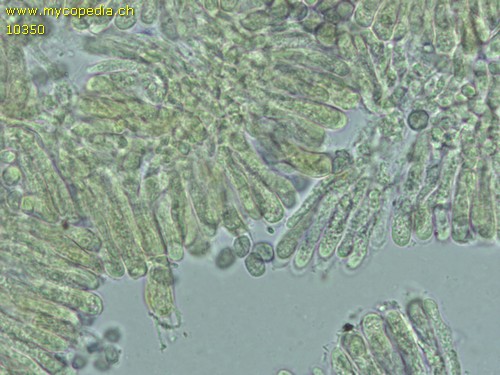 Hericium erinaceus - Flammer, T© 10349