Marasmiellus lateralis
aktualisiert: 04.09.2022 20:30:58
Autoren:
Bas & Noordel. 1993
Klassifikation:
Fungi, Dikarya, Basidiomycota, Agaricomycotina, Agaricomycetes, Agaricomycetidae, Agaricales, Omphalotaceae, Marasmiellus
Aktueller Name gem. MycoBank:
Current name: Marasmiellus lateralis Bas & Noordel., Persoonia 15 (3): 351 (1993) [MB#361023]
Substrat
Sehr morsches Holz, wahrscheinlich Picea
"
Fruchtkörperfarbe / Farbspektrum
Hutoberfläche
Lamellenmerkmale
Schneiden, eher glatt, aufgrund der Winzigkeit wirken die Lamellen unter der Stereolupe dick.
"
Sporenlänge
Sporenform
Sporen elliptisch schmal.
"
Auffällig sind die vielen Rhizoiden um die Fruchtkörper (siehe Foto 1).
"
Sporenform
+/- elliptisch, apfelkernförmig
"
Sporenmembran, Oberfläche, Skulptur
Hyphen / Hyphensystem
Cheilozystiden
Flaschenförmig, mit langem Hals und teilweise leicht kopfig
"
Bemerkungen / Hinweise / Abstract
Verweise:
"
- Nothopanus, Panellus, Pleurotellus = Cheimonophyllum candidissimus (rundliche Sporen) (Pleurotellus chinoneus)
"
- Panellus
"
- Crepidotus epibryus (Syn. Crepidotus hypnophilus, Pleurotus graminicola, Pleurotellus herbarum, Pleurotus septicus, Pleurotus perpusillus)
"
- Simocybe
"
Gattung/en:
Pilzporträt JPG
Suchbegriffe / Tags: Pleurotellus is now a dead genus, a synonym of Crepidotus, since its type species P. graminicola, despite its smooth ± white spores, is established beyond doubt as a Crepidotus, widely known by the earlier name C. herbarum, now known by the still earlier and thus correct name C. epibryus. All the remaining Pleurotellus species that were interpretable at all and didn't belong in Crepidotus now have new homes elsewhere. Two of these, listed in NCL (= Dennis, Orton & Hora, 1960: New Check List) as P. patelloides and P. candidissimus have become Chaetocalathus craterellus and Cheimonophyllum candidissimum. These two have both long intrigued me as I have never found either, despite statements in BFF6 (= British Fungus Flora Vol. 6, Watling & Gregory, 1989) that they are respectively "widespread in the southwest" and "rare but widespread throughout the British Isles". I take this opportunity to add some notes on these two species and their known British distribution. But first I give a brief overview of the fate of the remaining species assigned to Pleurotellus in NCL and/or BFF6.
Marasmiellus lateralis - Flammer, T© 11797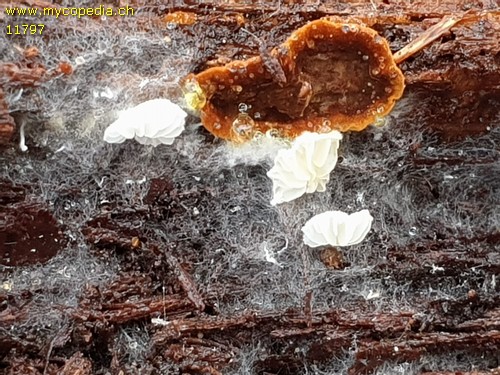 Marasmiellus lateralis - Flammer, T© 11845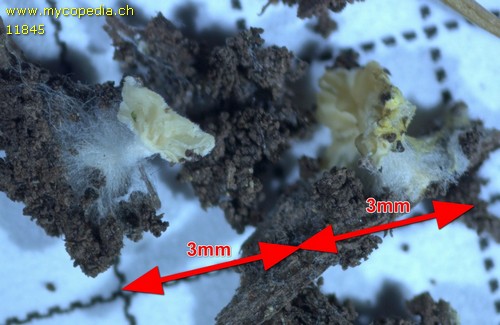 Marasmiellus lateralis - Flammer, T© 11798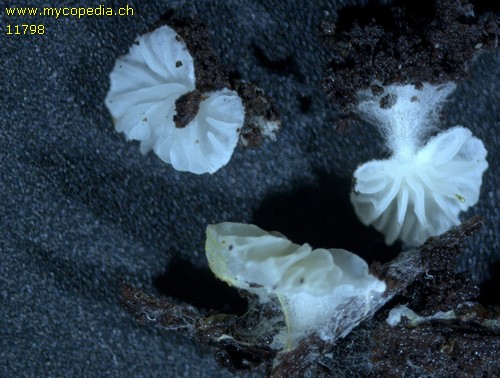 Marasmiellus lateralis - Flammer, T© 11799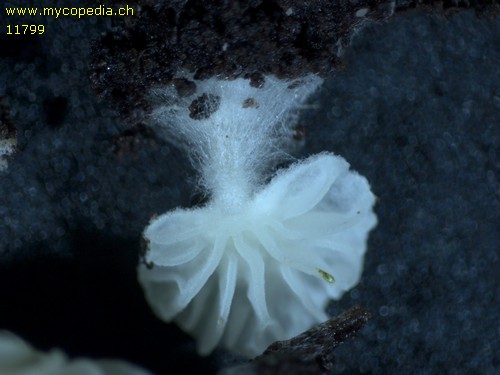 Marasmiellus lateralis - Flammer, T© 11801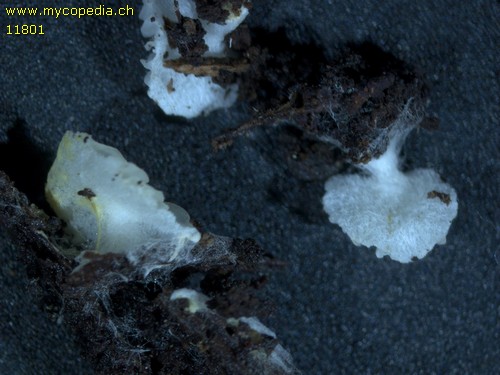 Marasmiellus lateralis - Cheilozystiden - Flammer, T© 11800
flaschenförmig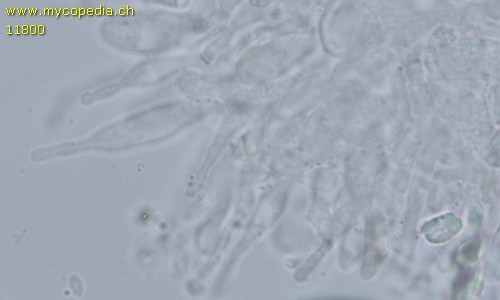 Marasmiellus lateralis - 4sporige Basidien - Flammer, T© 11803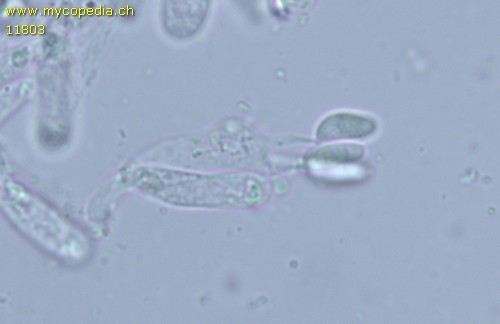 Marasmiellus lateralis - HDS - Wasser - Flammer, T© 11802