Cuphophyllus colemannianus
Dattelbrauner Ellerling
aktualisiert: 11.05.2023
Autoren:
(A. Bloxam) Bon
Klassifikation:
Fungi, Dikarya, Basidiomycota, Agaricomycotina, Agaricomycetes, Agaricomycetidae, Agaricales, Hygrophoraceae, Cuphophyllus
Aktueller Name gem. MycoBank:
Current name: Hygrocybe colemanniana (A. Bloxam) P.D. Orton & Watling, Notes from the Royal Botanical Garden Edinburgh 29 (1): 131 (1969) [MB#332166] Basionym: Hygrophorus colemannianus A. Bloxam, Annals and Magazine of Natural History 13: 403 (1854) [MB
Stielbasis / Basis
Schwärzend = Pilzbefall??
"
Lamellenmerkmale
Gattung/en:
Cuphophyllus colemannianus - Flammer, T© 14623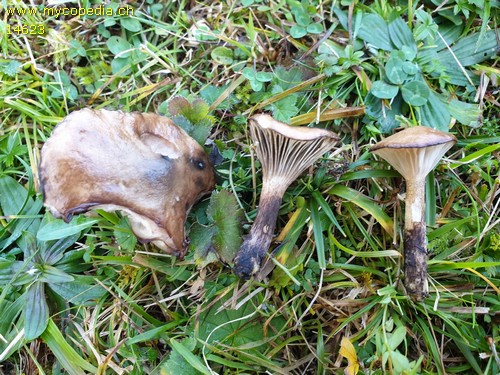 Cuphophyllus colemannianus - Flammer, T© 14624