Balsamia vulgaris
Gemeiner Balsamtrüffel, Gemeiner Balsamschleimtrüffel
aktualisiert: 10.01.2022 11:07:41
Autoren:
Balsamia vulgaris, Vittadini, 1831
Klassfikation:
Fungi, Dikarya, Ascomycota, Pezizomycotina, Pezizomycetes, Pezizomycetidae, Pezizales, Helvellaceae
Aktueller Name:
Balsamia vulgaris Vittadini
Geruch / Geruchsprofil
Zuerst süsslich angenehm, dann strenger und unangenehm
"
Sporenlänge
Sporenform
Sporenmerkmale
Bemerkungen / Hinweise / Abstract
Auszug aus Funghi Ipogei D'Europa von Amer Montecchi & Mario Sarasini:
"
Fruitbodies hypogeous or subepigeous, tuberiform and knotted, sometimes lobed, 1-3 cm diam. on the average, varying in colour from light hazel brown when young to orange-ochre and rusty brown; surface finely papillate-verrucose with roundish, darker and separable papillae, sometimes occurring also in occasional inner chambers.
"
Peridium completely closed, with a pseudoparenchymatous structure formed by polygonal-roundish, yellowish elements, 10-20 (30) µm diam.
"
Gleba whitish to pale yellow, with numerous small chambers formed by labyrinthiform tramal plates, darker in the intermediate layer; asci widely clavate to ellipsoid or ellipsoid-fusiform, bearing a peduncle, 70-100 (125) x 30-50 µm approximately, with 8 untidily distributed spores, mostly randomly arranged in the flesh or facing small chambers and mingled with cylindrical very septate paraphyses, about 5 µm diam. Odour delicate of sweets at first, becoming then stronger and unpleasant.
"
Spores cylindrical with rounded apex, ellipsoid-cylindrical, with a thin and less than 1 µm thick wall, hyaline, smooth, generally with 3 guttules (the central one bigger), confusedly arranged in the ascus, 25-30 µm long on the average (in SA-BI 23-26,8-28,7-32 x 11-11,7-13,7-15 µm Q = 2-2,2).
"
Habitat: a rather common species, generally associated with deciduous woods, occurring most frequently under moss in nearby meadows and clearings or, sometimes, deeply underground; an autumn-winter species occurring at various altitudes.
"
Herbaria: in M. L. and in SA-81 numerous collections from the provinces of LC, CO, PR, RE, PI; under various deciduous trees (Tilia, Quercus, Carpinus, Corylus), also available in town parks and in the Mediterranean shrubs; from October to early winter.
"
Taxonomic notes: A well-known species defined by constant features, it presents no taxonomic problems.
"
Remarks: This species is considered toxic; it differs clearly from the other species of this genus, Balsamia polysperma, above all in its bigger, very elongate spores generally provided with three oil droplets. Asci are sometimes hardly visible on very mature specimens due to their very thin, hardly colourable wall.
"
Gattung/en:
Verwandte Themen & weiterführende Links:
Pilzporträt JPG
Suchbegriffe / Tags: Hypogäen
Balsamia vulgaris - Flammer, T© 13388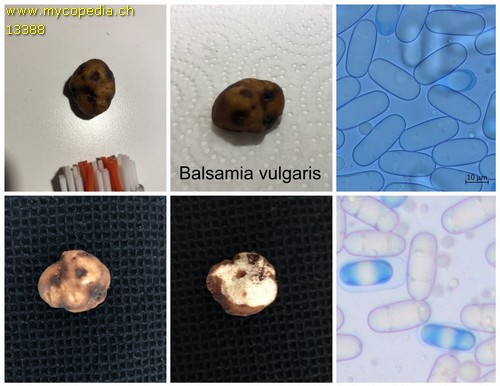 Balsamia vulgaris - Flammer, R© 3082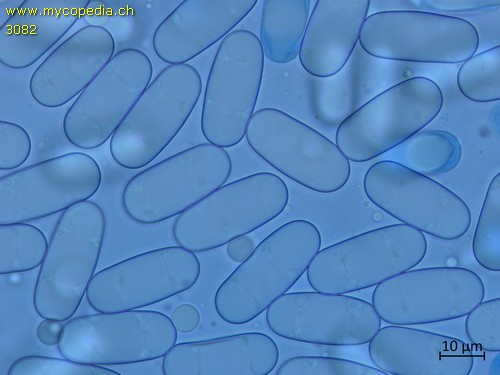 Balsamia vulgaris - Flammer, T© 13389